Otolaryngologist & Facial Plastic Surgeon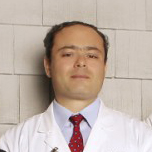 Dr Engle is a former ARMY Surgeon and enjoys taking care of Military families. He was born in Naples Italy, and grew up in Toms River, New Jersey.
He Completed his Otolaryngology Residency at The University Of Health Sciences, and has done further training in Pediatric ENT at Cincinnati's Children's Hospital, Rhinology at Cornell and Airway management at Johns Hopkins. His areas of interest are Rhinology and General Otolaryngology. He is Board certified both in Otolaryngology and Facial Plastic Surgery.
He served as Chief of The Otolaryngology, Head & Neck Surgery Department for the U.S. Army in Fort Leonard Wood, Missouri Before returning Home to New Jersey.
He is affiliated with Community Medical Center and Southern Ocean Medical Center. He is also an Editor for Medical Consultant News.